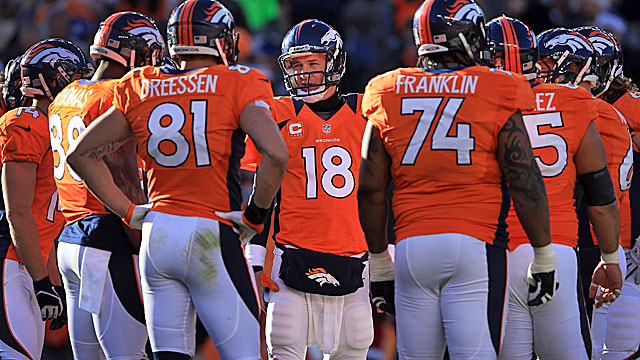 ENGLEWOOD, Colo. -- The guys who make the odds in Vegas list the Denver Broncos as the AFC Super Bowl favorite.
Just don't tell the Denver Broncos that, though.
Not in May anyway.
Walk up to any coach, player, scout, general manager or even public relations directors on any NFL team at this time of the year to tell them that they are the Super Bowl favorites and you'll get a wave of a hand or a look telling you to back off.
In Denver on Monday, it was no different. On the first day of the team's OTA practices here, the talk of being a favorite in May was met with the obvious reaction: So what?
"I don't care," said John Elway, the Broncos' executive vice president of football operations. "We don't care what's being said on the outside. We know our goals. You don't win Super Bowls by people on the outside telling you that you are going to do it. You have to do it. We do feel like if we play like we're capable we have a chance to win a world championship."
"I don't get caught up in that hype," Broncos corner Champ Bailey said. "We won 11 straight games going to the playoffs last year. And it didn't mean a thing. We lost the first game. You just have to stay humble and always act like your back is against the wall. I won't allow any young guy on this team to act like we've already won it."
Like it or not, the Broncos have to deal with it. This is a deep, talented team that I think is better than the one that lost to the Ravens in the divisional round of the playoffs. That's why Vegas oddsmakers love them. That's why they top the CBSSports.com post-draft Power Rankings.
They still have Peyton Manning. They've added receiver Wes Welker and some key pieces on defense. They've created competition at running back. The Broncos are good.
But they want to hear that next January. Not now.
"People have favorites all the time," Broncos coach John Fox said. "They have them in horse races. They have them in major championships in golf. It doesn't mean they all win. If we work hard enough, we will be a good football team."